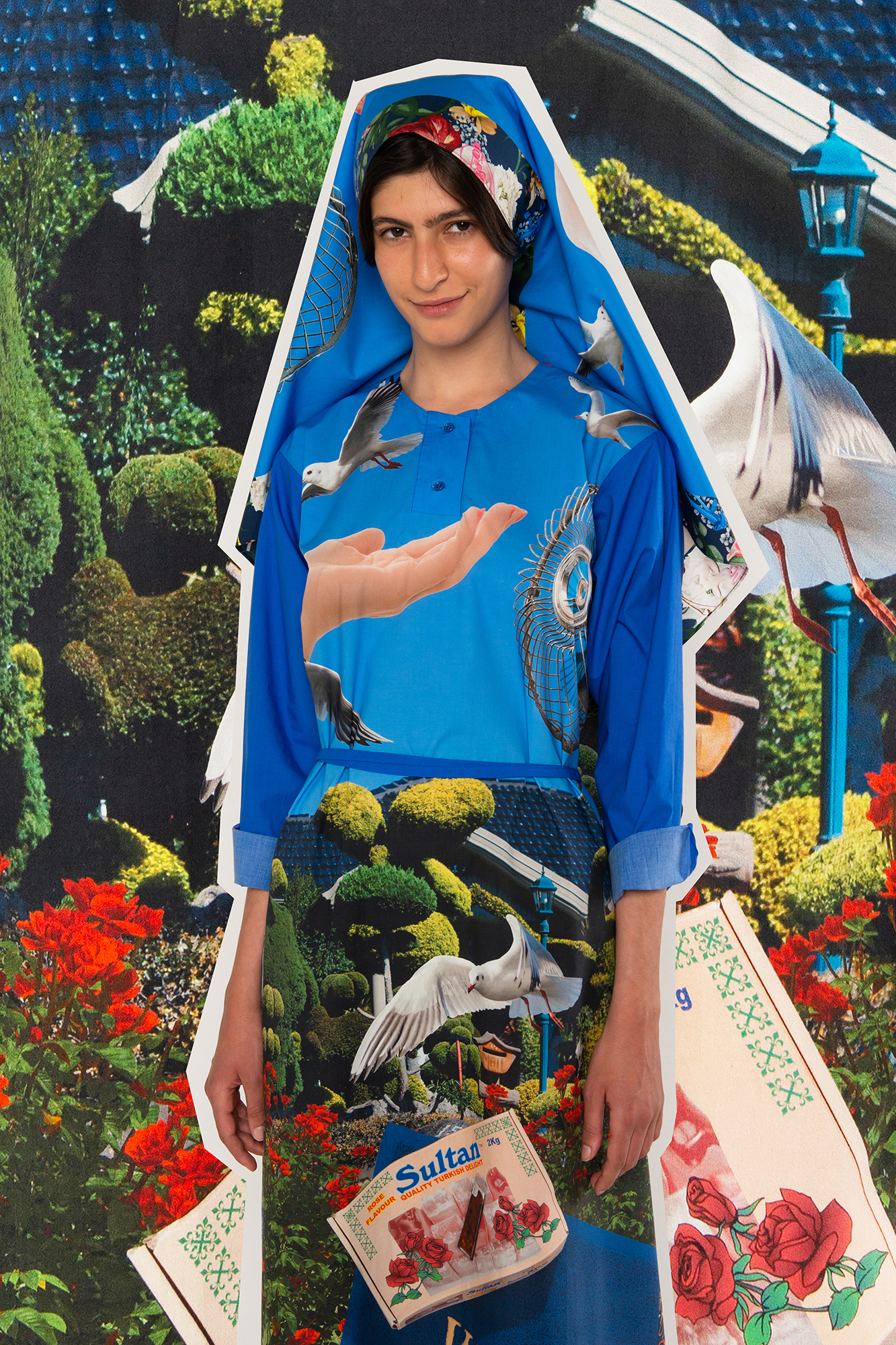 Exterior Motives – Holiday 20
Exterior Motives was created with the imagined glow of a post lockdown summer in mind. Allowing for optimism and self-confidence to enrich the way we dress, this collection was inspired by a desire for change and a yearning for freedom. 

Unfinished and unrealised ideas are revisited and remixed as a form of self-generated exploration. Time at home has allowed us to rediscover and reflect, to observe how we interact and move between the interior and exterior worlds – to take inspiration from our available surroundings, the here and now, and the everyday.

After several collaborative collections, working in isolation became the literal – Verner focusing instead on her own print design developments and ideas, further exploring the relationship between surface and structural design. Prints feature a combination of styles that are both harmonious as well as unsympathetic and disconnected. This is a bizarre and kitsch nostalgia with clashes of print and vivid monochromatic colour.

Inspiration also comes from the instinctual beauty of professional and personal uniforms; practical garments that we wed our identity to and that serve as both tools and points of expression. Shapes include easy to wear, blown-up utilitarian silhouettes in executive shirting that recycle those inner-city uniforms into something more relaxed. Exterior Motives explores comfortability, confidence, and a rejection of aspirational dress codes.

To sit alongside the in-house prints this season, VERNER begins to define a range of complementary and always available classic shapes. A selection of iconic and in-demand silhouettes complementing the chaos and vibrancy of Exterior Motives.

Additionally, VERNER pushes life at home to its limits, introducing a small offering of homewares pieces and comfort accessories. An intuitive reaction to our newly nested lives and the forced preoccupation with our domestic sphere.

The chaos and vibrancy of Exterior Motives attempts to make the ordinary lovely – but the vivid primary colours, hot pastel tints, and cuts of stark black all speak to an aesthetic strangeness. Exterior Motives is an exploration in colour, print, and form and the relationships they share.